History
The Habitat Stores generate funds to build and repair homes and give hope to families in need in East Jefferson County.
Beginning with weekend garage sales to raise money for Habitat, a team of dedicated volunteers decided it was time to open a real store. Reviewing the unique needs of local residents, this team decided to focus on selling furniture, antiques, collectibles, and housewares.
After transitioning from multiple locations, including a former restaurant, the fairgrounds, a church, and an old mechanic shop, this hard working group decided they needed a stable, long term retail location that would continue to be affordable.
This committed group eventually became known as the Store Steering Committee growing to enough members for a visioning meeting to take place. Ownership of a store building became a priority.
A Chinese restaurant at 2001 West Sims Way came up for sale. It had the potential. It had visibility. It also needed major elbow grease. With the amazing support of the community, a capital campaign raised funds to purchase the building in 2005 and the transformation began.
The Port Townsend Habitat Store now generates funds to build a local Habitat home every year. Sixty six wonderful people volunteer in the PT Store every month.
By 2010, Habitat leadership determined there was a need to serve families in South Jefferson County through the Neighborhood Revitalization Initiative (NRI) Home Repair Program.
The program needed a sustainable funding source and with a committed group of four Quilcene residents and the support from the current Habitat Store team, a second Habitat Store was opened in Quilcene on July 29, 2011. The Quilcene Store now has 35 monthly volunteers.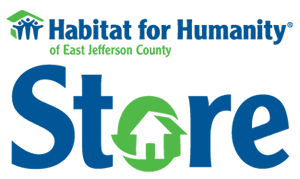 Port Townsend Habitat for Humanity Store
2001 W. Sims Way
Port Townsend, WA 98368
(360) 385-9653
Open Wed – Sat, 10 AM – 5 PM
Quilcene Habitat for Humanity Store
294963 HWY 101
Quilcene, WA 98376
(360) 765-3520
Open Thurs – Sat, 11 AM – 3 PM
Map to Habitat for Humanity PT Store

Map to Habitat for Humanity Quilcene Store